I recently discovered the brand Rock & Republic, which apparently is known for it's clothing line. However, recently there was a deep discount on their makeup items, which normally, for a blush, run about $40. I managed to snap up 5 blushes and paid less than $10 for each one, and a couple of them, I actually got free and only paid shipping! They had them on sale for 50% off, then I referred customers, who each time they purchased, gave me a $10 credit. Found a coupon code for an addition $15 off and so depending on the amount of referrals, on some accounts, I literally only paid the shipping, which wasn't that bad at all.
ANYWAYS, I heard these blushes were great and had wonderful staying power... you ever put on some blush and notice later it has magically "disappeared"? I've had that problem numerous times. I'd put it on heavier to start with (and look too made up) b/c I knew soon it was going to evaporate off of my cheeks, ha ha.
These are much better. I have noticed lately, with the combination of this blush and my E.L.F HD powder, I am not retouching my makeup except for possibly once a day. That's just a light brush of the powder on again. We have great staying power, great colors (use a light hand and build up b/c these are highly pigmented), and the packaging, I just got to say, is to die for. These are HUGE compared to other brands. The package came so neatly wrapped and the blush is in a round black beautiful container, which when you open up (see below photo) exposes the black and silver raised lettering (R&R) decorative container. I know, some do not care about the packaging, which would be normally how I am, but these seriously impressed me. I wish they made containers like these for powders that you could refill. I'd never hesitate to pull one of those babies out of my purse and refresh my makeup if it looked like these beauties!
Also, it doesn't hurt that my initials were R N R before I got married. So, these were kind of neat to me on a more personal level.
So, the colors I am showing you pictures of today are from my first shipment I received, three more to be coming this week.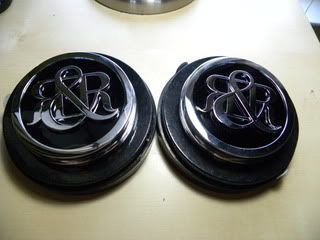 The colors are X-Rated (left) and Spank (right)
Overall, I'd give them an 8.5
, only knocking off 1.5 b/c the usual price is $40 and had I not gotten discounts and codes, I'd have had to pay $20 and no matter what, I'll always consider $20 for makeup too high.